This is the question I get asked the most by clients! Hopefully these 10 tips will help you look great in your headshot and branding photos.
I love helping people get great photos. I work with small business owners, individual professionals and larger organisations. Planning your outfits ahead of your shoot will save a lot of stress on the day – think about colour, style and practicality!
#1 Before you start…
…take a minute to think about who will be looking at your headshot.
Try to put yourself in your client's or future employer's shoes. How do they expect your headshot to look? While a professional headshot in formal attire is still the norm in some industries, a quick search on the internet (or my headshot gallery) will show you a range of headshot styles.
Your headshot outfit should reflect the sector you work in and the impression you want to give future employers or clients. Personally I wouldn't expect to see a fitness instructor in a shirt and tie for example.
And remember, your headshot should look like YOU, so that when a potential employer or client meets you for the first time they recognise you from your photo.
#2 Colour in headshots
Most people know what they look good in. It's important that you feel comfortable and confident in the colours you choose to wear in your headshots, as this confidence will come across in the photos.
If you're not sure which colours suit you, think about when people have complimented you on your outfit and which colours you were wearing. Or I'd recommend having a colour consultation – I had one earlier this year and it was a revelation!
All-white or all-black can look either very bright or very dark in the final image and lose detail, particularly if your photograph is being taken against a plain white or black backdrop. You can add a splash of colour by adding a scarf or other accessories, or use a contrasting background.
And don't forget that colour plays an important role in conveying information non-verbally, creating certain moods, and even influencing the decisions people make. For example greens and blues suggest harmony and peace while yellow is the tone of new ideas.
#3 Branding
But colour isn't just about what you're wearing.
If you plan to use your headshots on a company website or social media, make sure your outfit colours complement your branding colours. You don't have to 'match' your brand but if your logo, colour pallet and website design are light and airy with soft pastels for example, wearing a brightly coloured geometric print dress is going to look out of place.
Obviously you should avoid wearing anything with a brand name or logo, unless it's your own company name of course.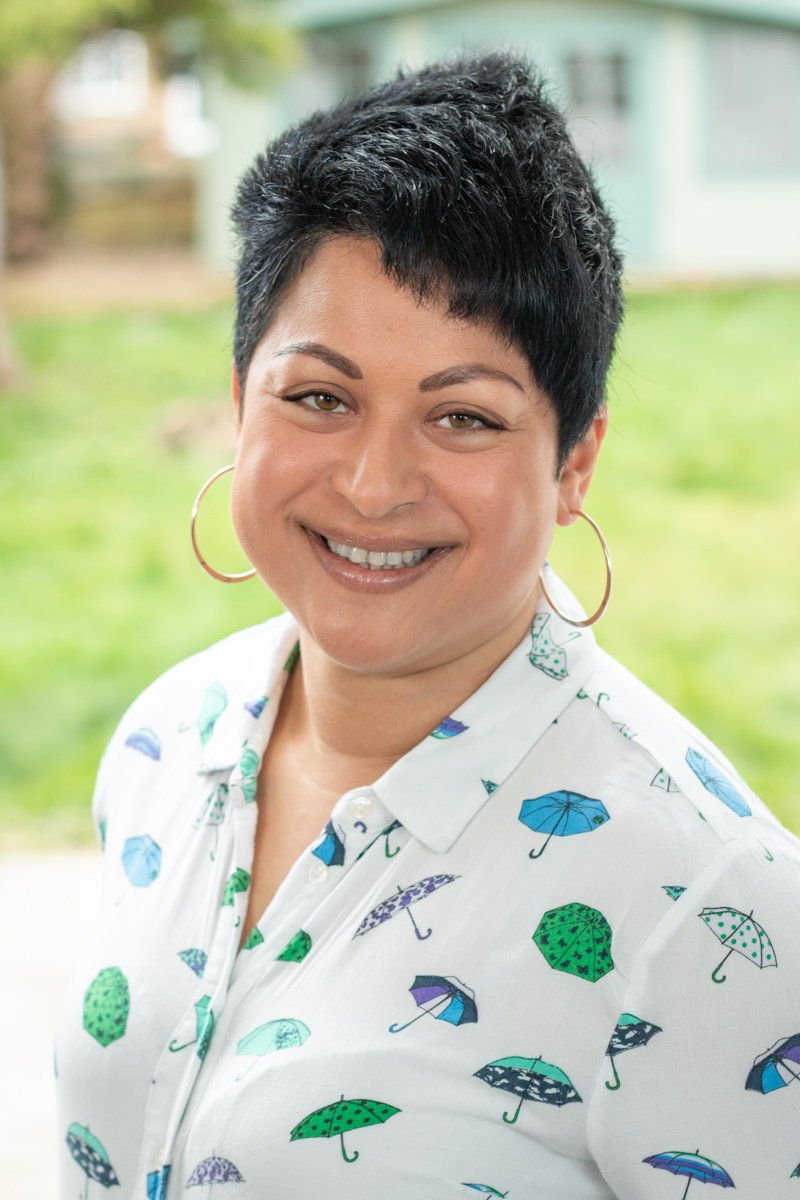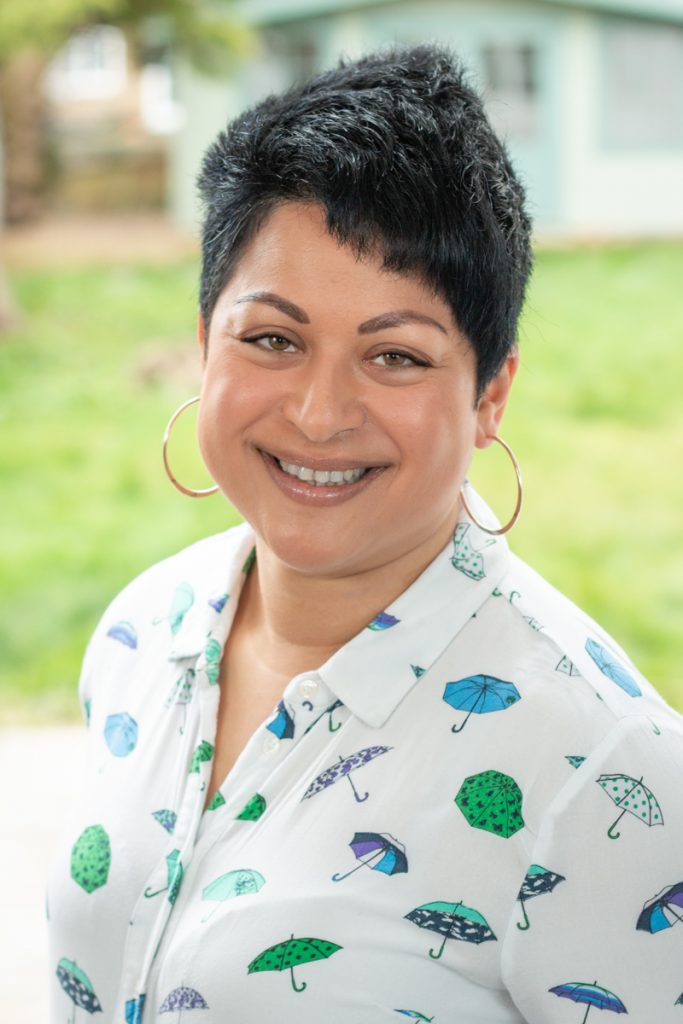 #4 Accessories
If you like to wear accessories, do. These can be a great way of bringing your branding colours into your photos.
But don't overdo it as this can be distracting in the final photo.
#5 Patterns
Patterns are fine but anything too bright or fussy can draw attention away from your face.
And remember to consider the background in your photos so your outfit doesn't clash with it, or you don't blend in! This goes for colour too.
#6 Comfort
It's important that you feel comfortable in what you're wearing. And I mean physically comfortable!
I like to make photoshoots as relaxed and fun as possible and the last thing you'll want is to be breathing in the whole time or worried about whether your top has slipped.
Make sure you're wearing something that you don't need to keep adjusting or fiddling with, as this will break the flow of the shoot. The more relaxed, comfortable and focused on the photographer's directions you are, the better the end result.
Most headshots are just that, a photo of your head and shoulders, so it doesn't matter what you're wearing on your bottom half as long as you're comfortable.
But if you're having photos full length or sitting down then your trousers or skirt need to fit the bill (and fit you too!). Make sure you're wearing something comfortable and avoid a tight waistband that will cut into you or a skirt that rides up when you sit down. And don't forget matching socks and shoes!
#7 Less is more
You may want to avoid sleeveless tops as bare arms can highlight the contrast between the tone and colour of your arms and your face. And, as many headshots are taken slightly from the side, you also risk showing your armpits in certain positions!
The same goes for low necklines. Lots of flesh can distract attention from the face in the final image so is best avoided, unless of course it's a style statement and fits with the tone you'd like to convey.
I think bare shoulders are completely fine in this headshot of a pilates teacher for example.
#8 Slippers or Stilettos?
Photoshoots can be tiring and you may find you're on your feet for a while, so comfortable footwear is essential.
Lots of my clients keep their slippers on for their headshot shoot (nobody will know!) but if high heels make you feel more confident, then go for it! You may just want a spare pair of comfy shoes to change into.
Obviously if you're having full length photos then your shoes should be considered in your outfit choice, (and clean!).
#9 Mix it up a bit
Not all your photos have to be in 'workwear'. If you want to show some of your personality in more relaxed lifestyle images then you should absolutely wear something more 'at home' – as long as it's appropriate and is a reflection of your brand.
Many of my male clients like to have some headshots taken in a jacket and tie and also some more casual ones in just an open neck shirt. It's a good way of adding variety.
#10 Team photos
And just a few pointers if you're having having team photos, or headshots of several people.
Keep in mind that outfits complementing each other will be more pleasing to the eye when viewed together, and the photos will look better side-by-side on a web page. Maybe pick a couple of colours or a general tone that complements the company's branding colours and choose clothes that will fit within this scheme.
Check if your other colleagues are planning to wear suits and ties or something more casual.
And Finally…
Remember that this is just a guide. One of the most important things is that you are happy and comfortable with what you are wearing.
And that you feel like YOU!
What next?
If you want to find out more about working with me, I offer a pre-booking phone consultation to talk about your business and the sorts of images you need. This is a great way to explore how you can use photos to help you shine online.
Or you can keep in touch by signing up to my emails below 👇🏻👇🏻👇🏻