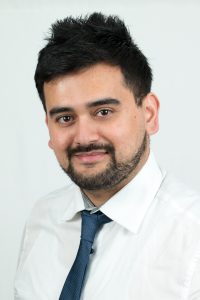 Running your own business?

Looking for a new job?

On LinkedIn?

Got a website?
If the answer is yes to any of the above, you need to be seen.
If you have a professional headshot on your LinkedIn profile you are likely to get 14 times more views than if you don't. 
Your profile picture is often the first contact people have with you, so make it stand out for the right reasons. A professional headshot shows you are serious about what you do and can set you apart from the competition. It can help you get noticed in a crowded job market. It gives you credibility.
Don't know where to start? Read on…
How I can help you
You may simply need a professional fully-edited head and shoulders shot to use as your profile picture on LinkedIn, social media or online CV. Or perhaps you need a wider range of images to promote you and your business. Whichever it is, I can help.
Simply Headshots – £119
Your session with me includes:
30-40 minute photo-shoot at your place of work or home*
Plain white backdrop and professional lighting
2 fully edited 'head and shoulders' shots of your choice (from contact sheet proofs)
Images provided digitally in low resolution and high resolution
More Than A Headshot – £169
Your session with me includes:
Pre-shoot phone consultation to discuss the images you need
1h – 1h30 photo-shoot at your place of work or home*
Opportunity to have a change of outfit
Your choice of two or three 'settings' (within the same location)**
4 fully edited digital images of your choice (from contact sheet proofs)
Images provided in your choice of format (eg. square, 2×3, portrait/landscape etc) depending on what you need
Images provided digitally in both low resolution and high resolution
*Travel within 10 miles and 30 minutes of Bromley is included.
**For example, you may like a head and shoulders shot against a plain backdrop, as well as something less formal with a different background – we will discuss this in the pre-shoot consultation
Want to Look Your Absolute Best on Camera?
I work with professional make-up artist, Cheryl Huggins, who helps both women and men to look their best for the shoot.  She can provide professional business make-up from £35, or for men she offers a brow tidy and skin-smoothing for a more even tone and complexion. This is £20.
Cheryl is an experienced and licensed professional make-up artist – you can find out more about her here. Please let me know at the time of booking if you are interested in makeup for your headshot so I can check Cheryl's availability.
The Little Things
In case you're wondering, when you book with Michelle Richards Photography you get Michelle Richards! I don't contract out.
Images are provided in digital format and you can choose between downloading them from a file share or I can put them on a CD
Additional edited images are available at £15 each
Travel within 10 miles and 30 minutes of Bromley is free – if you are further afield please get in touch for a quote.
Once you start to use your new photos on your website and social media, I would be happy to share your company details on my website and blogs
If you need headshots of several members of your organisation, please get in touch for a separate quote letting me know how many people and where you are
You don't get a second chance to make a first impression!
If you want people to take you seriously it's time to ditch the selfie and get yourself a professional headshot.
TO BOOK
You can email me at hello@michellerichards.co.uk. Please let me know which headshot service you are interested in, an idea of your timescales and your location and I will get back to you. Or feel free to drop me a line if you have any questions or just want to chat about different options!
For more of my headshots please see my gallery.  You can see what my clients say here.
My headshot clients include: Marsons Solicitors | Wellers Law Group | Baxter & Co Accountants | White Raft Consulting | Business Rhino Accountants | Seven Dials City PR | Empower Development | Heart Valve Voice | Lee Townsend Website Content Solutions | Jane Rogers PR | AH Yoga | In-Indigo Ltd | Author, speaker and coach Sherry Bevan.